Background
Alberta is a province in Western Canada. Its landscape encompasses mountains, prairies, desert badlands and vast coniferous forests. It has more than 600 lakes, and rich mineral deposits. In the west, the Canadian Rocky Mountain Parks have glaciers in the Columbia Icefields. The Waterton Glacier International Peace Park is a biosphere reserve that straddles the southern border with the USA. Alberta's population is 4.1 million and capital city is Edmonton.
‍
General information
A June report submitted to FSWC by the Edmonton Police Service for 2017 listed a total of 12 hate crimes, two of which were antisemitic in nature: according to the service, "this represents a reduction in hate crimes from 2016, although when hate incidents are included for both years, 2017 is approximately consistent with 2016. The reduction in crimes so far in 2017, is seasonal, as we have not yet entered summer, where we typically encounter a greater volume of events."
The Edmonton Police Service advises that general trends of hate include, "anti-immigration sentiment with a focus on Islam. Negative references to Syrian refugees, inflamed Islamic international terrorist events, and parliamentary motion m-103." Interestingly, the service advises of a growth in extreme right wing groups (SOO, Canadian Sentinels, Guardians of Alberta, etc.) with a targeting of non-white communities and anti-LGBTQ.
‍
Arson
Police were investigating two separate fires that appear to have been deliberately set at a Jewish school in Edmonton on July 15th and 16th, 2017. The Israeli and Canadian flags were stolen from the Orthodox synagogue down the street from the school one day later as well.
‍
On-Line
On August 17th, 2017 Nimra Amjad, a Calgary woman running for a position as school board trustee, reported that she received threatening comments on her Facebook campaign page along with a threatening personal message. The first comment included a racial slur and questioned her right to run for the school board position. Another post stated that the neo-Nazi Aryan Guard group, which has been active in Calgary in the past, would find out where she lives, telling her to "beware." Yet another post read: "you will be lying dead on the street like Heather Heyer." (Heyer is the 32-year-old protester killed after a car plowed through a crowd in Charlottesville, Va. where white supremacist groups and counter-protesters violently clashed). Calgary Police are investigating.
‍
Hate Speech
In April 2017, FSWC responded to a Catholic high school in Red Deer that was teaching its students that abortions in Canada are equivalent to the Holocaust. "The Case Against Abortion, Personhood" – is a video was being shown behind closed doors. Alberta Education Minister David Eggen informed Red Deer Catholic Regional Schools that "there is no place in a publicly funded school for a video comparing the horrors of the Holocaust to abortion."
Days after the Calgary Jewish Community Centre was evacuated due to a bomb threat in March 2017, a racist group called "Blood and Honour" announced it was hosting Alison Chabloz, a white supremacist from the UK. A closely monitored group by the RCMP, Blood and Honour is named after a Hitler Youth slogan and publishes a magazine promoting neo-Nazism. Chabloz is said to have referred to Auschwitz as a "theme park" and to the gas chambers as a "hoax."
Antisemitic sentiments were exposed against a Jasper woman who produced and starred in a Holocaust denial video. The CBC reported on July 15, 2016 that Monika Schaefer "expresses her firm belief that six million Jews did not die at the hands of Nazi Germany and refers to the Holocaust as the six million lie." The Green Party, for whom Schaefer ran as a candidate, immediately distanced itself from Schaefer.
‍
Graffiti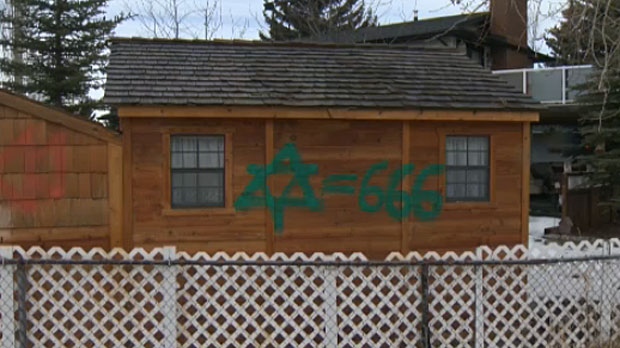 On March 17, 2017 – CTV reported that Calgary police were investigating hate graffiti in a park in Ranchlands. "The messages containing insults directed towards Jews and Muslims" were found by a resident. Earlier in March, swastikas and graffiti was also found in the Bridgeland neighbourhood – possibly targeting refugees.
‍
In December 2016, the Calgary Sikh community said profanity and swastikas were painted on its temple. Its community proudly spoke out against this form of hate and racism and encouraged Calgarians to report such hate to police.
‍
University Campus
On February 13, 2017, the Calgary Sun reported that a dozen posters were found on windows and doors at the University of Calgary – attempting to cast doubt that six million Jewish people were murdered in the Holocaust. The posters asked, "Did the 6 million really die?" Like most investigations, the culprits were never found.
In September 2016 Global News reported that the University of Lethbridge suspended one of its professors without pay pending an investigation. Lethbridge police investigated professor Anthony Hall's Facebook page. The post said in part, "kill all Jews now. Every last one" (the original post was not Hall's). Police did not lay charges against Hall stating, the post "did not meet the threshold for intent... for advocating genocide or public incitement of hatred." As of January 2017, the university re-activated Hall's pay and launched a complaint against him with the Human Rights Commission of Alberta. Additionally, Hall is suspended from teaching and contact with students.
‍
Violence
Tragedy struck in 2015 when Const. Daniel Woodall was shot several times on the doorstep of a home in west Edmonton while serving an arrest warrant relating to a hate crimes matter. That was the year the number of hate reported incidents in the city hit 138, whereas in 2016 there were approximately 108 recorded cases.