Background
The Maritimes are Canada's eastern provinces: Nova Scotia, New Brunswick, Prince Edward Island and Newfoundland and Labrador. Nova Scotia has long coastlines and an artsy capital. New Brunswick encompasses river valleys and the Appalachian Mountains. Between them lies the Bay of Fundy, known for its extreme tides. Prince Edward Island, in the Gulf of St. Lawrence, has beaches, red sandstone cliffs and a renowned culinary scene. Newfoundland and Labrador form the most easterly province of Canada. In Newfoundland and Labrador, the Norse archaeological site L'Anse aux Meadows is the reputed settlement of Viking explorer Leif Erikson. Gros Morne National Park, on the Gulf of St Lawrence, has cliffs, waterfalls and glacial fjords. Southeastern capital city St. John's is known for the 17th-century Signal Hill citadel, with a hillside walking trail.
‍
Hate Speech
Indigenous activists in Halifax were confronted on Canada Day by a group of men who claimed to be members of a "Western chauvinist" organization called the Proud Boys. The Facebook page of the Proud Boys Canadian Chapters says it is "a fraternal organization of Western Chauvinists who will no longer apologize for creating the modern world." The group was started last year by Gavin McInnes, the Canadian co-founder of the media outlet Vice turned right-wing commentator. In the past, McInnes has admitted he is "becoming anti-Semitic". The Proud Boys' mottos include "West is best" and "I won't apologize for creating the modern world."
Graffiti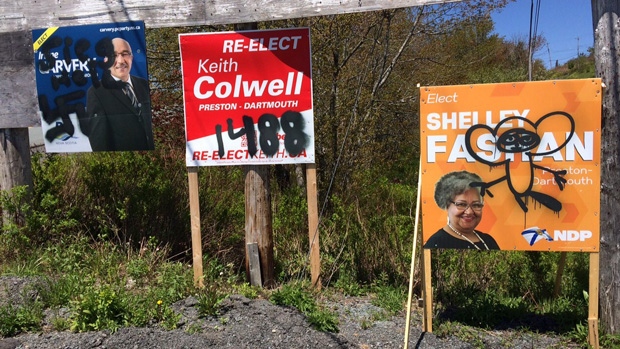 A Sydney woman discovered hateful graffiti at a local ballpark on August 18, 2017. City parks and grounds were notified but by the time they arrived to remove the graffiti it had already been painted over.
The June 4, 2017 provincial election in Nova Scotia ended on a dark note after campaign signs in a historically African-Canadian community in the province were defaced with racist and antisemitic graffiti. The defaced campaign signs – one from each of the three major provincial political parties – appeared to have been spray painted with a swastika, the phrase "Sieg Heil", and the number '1488', which is a popular term within neo-Nazi and White Supremacist groups. One of the candidates, the NDP's Shelley Fashan, told CBC that the graffiti "does have racial overtones. That's just ignorance; that's just people being hateful and ignorant. It's not going to deter what I am doing. It shouldn't deter anybody."
In Halifax, on May 16, 2017 - antisemitic graffiti was scrawled on the CBC building. The hate crime features the phrase "CBC=Juden" and the Star of David with a cross through it. Halifax Regional Police advised that the investigation is ongoing.
On Prince Edward Island, on February 27, 2017 - a father was shocked after finding a picture of a swastika in his child's surprise bag from a local convenience store. "Its just not acceptable to me and a lot of other people," said the father. The distributor recalled the bags and said it was "appalled that this item was found in a product that we distribute".
‍
Campus
In New Brunswick, a swastika was carved into the snow on Mount Allison University's Alumni Field on January 22, 2017. The small university with a population of 2,500 was strongly impacted by this hate crime. One student said that she won't be telling her grandparents – all Holocaust survivors – that someone carved a swastika in the snow, stating, "They would be so upset."