Background
Ontario is a province in east-central Canada that borders the U.S. and the Great Lakes. It's home to Ottawa, Canada's capital, which is known for Parliament Hill's Victorian architecture and the National Gallery, featuring Canadian and indigenous art. Toronto, Ontario's capital, is home to the 553m-high CN Tower, with expansive views from its revolving restaurant, as well as High Park, site of a rare oak savannah habitat. Ontario is the largest province in Canada with a population of approximately 13 million.
‍
Hate Crimes Reports
OTTAWA:
Ottawa is the capital city of Canada. As of 2016, Ottawa had a city population of 934,243 and a metropolitan population of 1,323,783 making it the fourth largest city in Canada. Ottawa Police have reported an increase in the number of reported hate crimes. Ottawa police confirm the number of hate-related reports has grown from 79 in 2015 to 109 in 2016. To date this year, 2017, the number has reached 56. Ottawa police do offer a caution that there is a new on-line means of reporting hate crimes; therefore, there may not be an increase in the actual number of hate crimes, rather the increase is in the number of hate crimes that are reported. Ottawa police are encouraging citizens to report all hate crimes.
‍
TORONTO:
Toronto is Ontario's largest city with a population of 6.4 million - a larger density than most of Canada's provinces. The Toronto Police Services Hate Crimes Unit released an annual report. According to the report: "In 2016, there was an increase in the total number of hate/bias crimes occurrences reported to the Service. In comparison to 2015, the number of reported occurrences increased from 134 to 145, representing a difference of approximately 8%. Over the past 10 years, between 2007 and 2016, the average number of reported hate/bias crimes is approximately 141 per annum."
The report states, "The three most targeted groups since 2006 have been the Jewish community, the Black community and the Lesbian, Gay, Bisexual, Transgender and Queer (LGBTQ) community. In 2016, the Jewish community, followed by the LGBTQ community, the Black community, and the Muslim community were the most victimized groups".
The Toronto Hate Crimes report once again reveals that the Toronto Jewish community is the most victimized religious group by far at 29.7% in comparison to the Muslim community at 15.9%. Still, most hate crimes against the Jewish community are unaccounted for, particularly on university campuses and through hateful pamphlets and/or newspapers which are distributed in neighbourhoods. Most occurrences of antisemitism are resolved institutionally and never reported or quantified as shall be later indicated.
‍
Private and Public Schools
York Regional Police began an investigation after antisemitic and racist graffiti was discovered at three Markham schools between August 19 and 20. Graffiti included the Star of David being equated to the swastika, reference to the KKK and the message "White Power." Police are treating the graffiti as a hate crime.
On June 30, 2017, FSWC received an anonymous tip with photographs of hate graffiti at Woodbridge College in Vaughan, Ontario. In the pictures sent to FSWC, at least three Swastikas were drawn on school buildings, with one adjacent to a phallic symbol and another drawn as part of a massive Nazi flag. In one picture, a plane crashes into the Twin Towers with the words, "Jews did 911" scrawled above. The incident was sent anonymously to FSWC to expose antisemitism and have it publicly discussed. York Regional Police have since laid charges after discovering the antisemitic as well as anti-Black and homophobic images and words on the exterior walls of the school.
Antisemitism and anti-Israel sentiment is also seeping into our public school system through the re-writing of textbooks to project anti-Israel propaganda. In 2017, FSWC discovered that Nelson Canada, Social Studies Grade 6 textbook published a false claim that Israel employs "child soldiers". It even equated Israel, a democracy, with oppressive societies like Libya, Mali and Yemen and stated that "most child soldiers are kidnapped from their homes". The publisher profusely apologized and, after working with FSWC, replaced stock of all student books with corrected versions.
Schools in general have been targeted externally by antisemitic incidents. Eitz Chaim Hebrew Day School, for example, had a minimum of three antisemitic incidents in the spring of 2017 - including swastikas drawn on various external areas and even stones being thrown at its students who were in the play ground.
A serious incident occurred at Branksome Hall in May 2017 where two Senior School students, who had been studying about dictators and reading Animal Farm in their classes, drew a chalk drawing depicting Hitler and Stalin with accompanying quotes like "Hitler was right." The school explained that these students were unaware of the meaning of these drawings and provided counter education to them and to the rest of the school.
An upward trend in antisemitic incidents at private schools in the GTA began in 2017. Uncharacteristically, Upper Canada College reported on April 26, 2017 that "a student in Grade 7 returned to his locker at the end of the day to find it vandalized with anti-Semitic symbols and messaging. As soon as we became aware of the situation, the College began an investigation. We have attempted to progress the investigation swiftly, involving all appropriate parties, including the police."

Similarly, Greenwood had an antisemitic incident in April 2017 which impacted its student body and parents. In an email to parents, the principal wrote: "As you may have heard from your child, Greenwood also suffered its own troubling incident at the beginning of April, when one of our after-hours cleaners found a swastika that had been drawn anonymously in marker on a wall in the boys' change room."
Schools outside of the GTA have also been targets of antisemitism. In Brockville, J.L. Jordan Catholic School was vandalized with antisemitic graffiti three times - once in December 2016 and twice in January 2017 - according to police.
In November 2016, Ottawa police were notified after hateful messages depicting a Swastika and the KKK (Ku Klux Klan) symbol were found spray-painted on the outside wall of Bridlewood Community Elementary School.
Earlier that year, just as students were preparing to head back to school on September 6, 2016, crews began cleaning up antisemitic graffiti that was discovered over the weekend at St. Theresa Catholic Elementary School in Orleans, Ontario. A swastika was spray-painted on a shed at the school, and several signs on the property were vandalized.
‍
University Campuses
Antisemitism on university campuses in Ontario has become commonplace. Often, it is linked to political forms of antisemitism under the veneer of "campaigns" against Israel. They manifest as "Boycott, Divestment and Sanctions" campaigns, "Israeli Apartheid Week" and aggressive lobbying on behalf of the pro-Palestinian movement. Ryerson University, especially, has been cause for concern in the 2016-2017 academic year. In the most recent instance in May 2017, it was revealed that a Jewish social work student was denied placement by the university administrators at two Jewish organizations of her choice. The student, Rebecca Katzman said she felt "targeted" by Heather Bain, the program coordinator.
In another related Ryerson occurrence in March 2017, Ryerson University fired teaching assistant Ayman Elkasrawy for provocative antisemitic language while leading a prayer at his mosque. At Masjid Toronto, Elkasrawy allegedly called to "purify the Al-Aqsa Mosque from the filth of the Jews."
In a third demonstrable incident at Ryerson on November 29, 2016, Jewish students alleged antisemitism was behind a walkout staged by Muslim and pro-Palestinian students at a Ryerson Student Union meeting. The walkout was meant to stymie a motion to commemorate Holocaust Education Week.
York University continues to be cause for concern in the Jewish community. Numerous events have taken place over the last number of years which raise cause for concern. Jewish students have felt intimidated and victimized by radicalized student groups and faculty that have politicized the environment.
In March 2017, swastikas were discovered in a York University classroom. According to a distraught student, "the professor started the lecture, but said, 'unfortunately there was an incident and we have to cancel the class because the class is now a crime scene and police are coming in." In the same month, a written bomb threat and antisemitic graffiti was discovered inside a York University Glendon campus washroom, which prompted an evacuation and police investigation.

In 2016 when Friends of Simon Wiesenthal Center exposed a propaganda mural that still hangs in the Student Center. The mural depicts a Palestinian holding rocks behind his back with a blank map of Israel on his Kefiah. The community at large was outraged, calling it a violence promoting antisemitic propaganda display that victimizes and re-victimizes Jewish students.
As the university has refused to remove the mural - coupled with the Student Union's insistence on its hanging and reinforcement by anti-Israel measures in the form of boycotts and divestment undertaken by student groups and the Faculty Association (eg. YUDivest, Israeli Apartheid Week) - the Jewish community has largely scaled back its participation at York and Jewish student attendance has declined, especially in undergrad.
Some additional instances include a staff member who was terminated in September 2016 after an antisemitic post on Facebook stating, "Pray that these same Zionists, haters of God and His children, do not succeed in their goal of bringing about World War III."
Swastikas on campuses have become common place. In October 2016, a rash of antisemitic graffiti hit the University of Toronto's downtown campus. Three swastikas were found on a sign outside of OISE and on a sign for the medical sciences building. A Jewish University of Toronto professor copied FSWC in 2017 in a letter he sent to the university administration. In the letter he stated, "I do not feel safe on campus near Israel Apartheid Week activities. I am offended by the name "Israel Apartheid Week" which contains the institutional slander in its very name. I would not feel safe for my children to be in the vicinity of IAW activities at UofT".
Even while the University of Toronto is widely recognized as the birthplace of the antisemitic "Israeli Apartheid Week" - this year in March 2017 - Queens University also included this racist event on its student roster. Moreover, it held a "mock check point" on the grounds of the university with some students being forced to choose between being Palestinian or Israeli in order to pass - with a sign reading, "Palestinians have your IDs Ready". This terrible display is intended to foment hate towards Israel and antisemitism toward Jewish students on campus.
In May 2017, President of McMaster University's chapter of Students for Palestinians Human Rights group tweeted a screenshot from a sermon from Hamas MP Marwan Abu Ras, which was translated to say "Palestine is occupied by the most despicable nation on the face of the Earth." Other tweets discovered on her account hail terror organizations and mock Israel.
Campus police at Western University began an investigation in February 2017 after antisemitic pamphlets were circulated on campus. The pamphlets had a one-page letter blaming "Jewish terrorists trained by Israel Zionists" for the shooting rampage that took place at a Quebec mosque and resulted in the deaths of six people. This incident took place less than three weeks after a bomb threat forced an evacuation of the London Jewish Community Centre.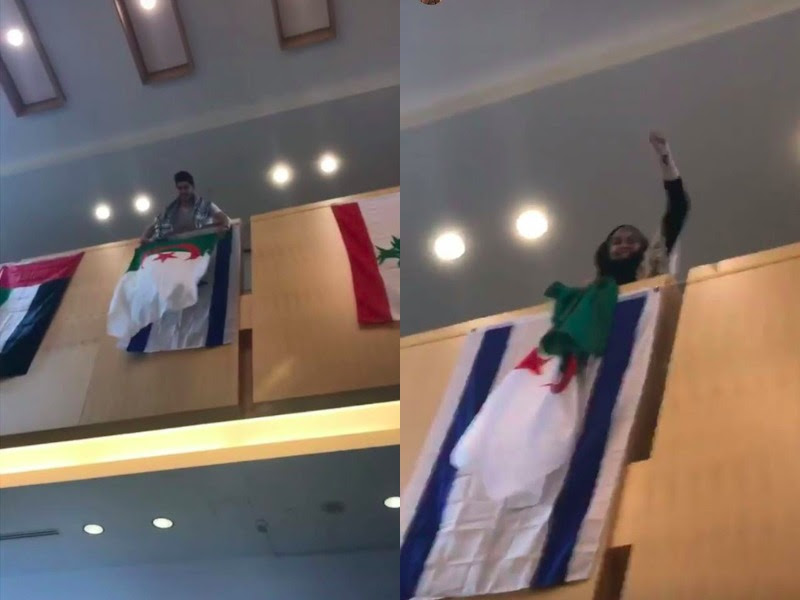 On the week of March 14, 2017, administrators at the University of Ontario Institute of Technology (UOIT) began an investigation after a message comparing Jewish people to rodents was posted on Facebook in honour of an anti-Israel event at the university. This post came after an Israeli flag was covered with an Algerian flag at an on-campus multicultural language festival. Other posts - including one that told a Jewish student to "go back to Palestine" - were deleted.
This was not the first time UOIT was in the news. On August 3, 2016, the university became the first Canadian University to have a complaint filed against them by a Jewish or pro-Israel group. Hasbara Fellowships Canada filed a formal complaint with the Ontario Human Rights Tribunal, accusing the university of discrimination after the group was banned from participating in a student association-sponsored "Social Justice Week." UOIT sent an email to the group's national director, stating: "The Student Association passed a motion endorsing the Boycott, Divestment and Sanctions (BDS) movement...Your organization seems closely tied to the state of Israel and as such, it would be against the motion to provide any type of resources to your organization." In July, a settlement was reached between the group and university's student association, which apologized and acknowledged its wrongdoing.
The University of Windsor began an investigation after an anonymous commentator made antisemitic comments online during a learning seminar meant for getting feedback from students about engaging children with disabilities. According to an article by CTV Windsor, published on February 10, 2017, the presenter was using an open chat room, which the commentator used to ask "is being Jewish a disability" and state that the Holocaust was "greatly exaggerated."
‍
Hate Speech
For the last two years, homes across Ontario including Jewish targeted homes have been hit by a pamphlet called "Your Ward News" - a disturbing publication which promotes Hitler, Nazism, book burnings and Nuremberg like Nazi Marches. The pamphlet also has targeted other groups, minorities, politicians and social advocates. In June 2017, the editors were charged for hate crime by the Justice of the Peace due to a privately laid complaint. Canada Post has banned its distribution and as a result, an Independent Review tribunal has been struck to challenge this order.
In June of 2017 a hate speech complaint was filed against Maulana Syed Mohammad Zaki Baqri of The Council of Islamic Guidance and Resident Alim of the Al Mahdi Centre. In a speech at Al Quds Day at Queens Park on June 24, 2017 (not the Legislative Precinct), Imam Baqri allegedly said the following: "Israel, Zionism, should and must know (speaking Arabic)... It is the law that whoever oppresses, he has to be eliminated. One day or the other." The following video has been provided to police: https://www.dropbox.com/s/uhf1s45117y6ped/Maulana%20Syed%20Mohammad%20Zaki%20Baqri%20Speech.MOV?dl=0
Earlier this year in February 2017, Toronto Police launched an investigation into alleged hate speech that took place at the Masjid Toronto mosque in 2016. A former Israeli intelligence colonel found translated sermons from two imams at the mosque; the sermons included stating the need to "purify" the Dome of Rock mosque in Jerusalem of the "filth of the Jews" and slaying non-believers, infidels and polytheists. The Muslim Association of Canada also began an internal investigation into the claims, temporarily suspending a mosque employee and reportedly reaching out to leaders of the Jewish community to apologize.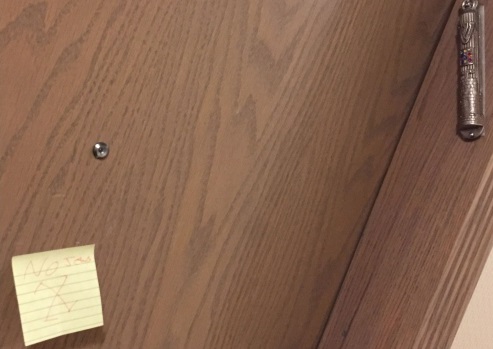 Elderly Jewish residents of a Willowdale apartment building were also targeted by hate speech and crime in February 2017. An apartment building was attacked by vandals who ripped mezuzas off of doorways and left sticky notes behind with messages that said "No Jews" and swastikas. The residents of the building were shaken up and police continues to investigate.
On December 11, 2016, owners of a cinema in London, Ontario were shocked after their website was hacked by someone who posted a racist manifesto titled "The Declaration of the Independence of Atlantis" and a link to an antisemitic video. The same content was sent to the cinema's database which has thousands of emails. The owners quickly shut down the website and contacted police.
An antisemitic post on a Facebook group initiated an exchange of memes and jokes about the Holocaust between Ryerson University students. According to a December 2016 CTV News report, the initial post included a split image with a photo of Hitler and a photo of a woman, with the following words written over it: "Removes Polish with chemicals nobody bats an eye... removes Polish with chemicals everybody loses his s*#@!." While some members of the group spoke out against the post, others posted other discriminatory images and comments.
A young woman from from the Greater Toronto Area had her laptop and notebooks seized at the airport for the promotion of hate propaganda after she posted a video on YouTube calling for a "white" only Canada. In the video, she used racial slurs, blamed increasing crime rates on immigrants and refugees, and sang Happy Birthday to Hitler. According to a Global News report in November 2016, she stated that if Jewish people whose families died in the Holocaust "had a sense of humour they would find it funny." Her video has been repeatedly removed from the site, but has been reposted by other users.
Following last year's Al Quds Day, a Mississauga teacher was suspended for comments she made at the July 2016 anti-Israel event. A complaint was filed after she allegedly called on the public to "support the resistance (against Israel) in any form."
A monthly magazine came under fire in July 2016 after publishing an antisemitic editorial that attempted to justify the Holocaust. Printed in Arabic, the article - titled "The Question Which Everyone Ignores: Why Did Hitler Kill the Jews?" - claimed that the number of people killed is overestimated and outlined reasons why the Holocaust was justified.
‍
Hate Graffiti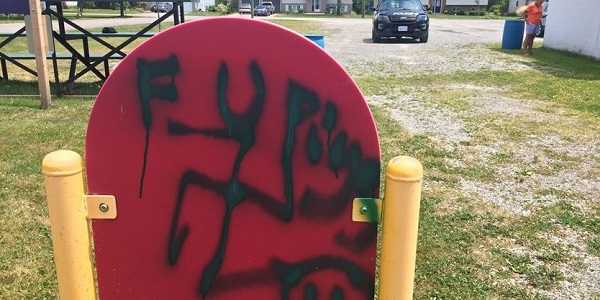 On July 6, 2017, Niagara Regional Police began an investigation in Fort Erie after Nazi symbols and crude images were found spray-painted on a children's playground and nearby clubhouse. A local business has since donated surveillance equipment to ensure such an incident does not occur again, and a cleanup effort was organized. FSWC reached out to the clubhouse to offer assistance in dealing with the situation.
Military Police began an investigation in April 2017 after the owner of a barbershop at Canadian Forces Base Kingston discovered a piece of paper with a swastika drawn on it stuck to her business door. The owner, who is of Jewish faith, said a similar incident had occurred in February.
That same month a former community school in Meaford was vandalized with antisemitic graffiti. Swastikas were found spray-painted on the former Meaford Community School building, saddening local residents and resulting in a cleanup a week later.
Numerous homes, vehicles and mailboxes in Caledonia were the targets of a serial spray-painter who spray-painted graffiti - including a swastika, male genitalia and obscene words - in March 2017. While crews were sent out to clean up municipal property, residents were left responsible for cleaning their own property.
Hamilton has experienced several antisemitic incidents, including a swastika drawn in a McMaster University bathroom and chalk swastikas drawn on the ground near Locke Street. Most recently in February 2017, Hamilton police began an investigation after antisemitic graffiti - including a swastika and the words "gas the Jews" - was found spray-painted on the ground on the Escarpment Rail Trail.
A columnist for a Canadian Jewish publication discovered a swastika and sexist slur drawn in the snow outside her home in Sault Ste. Marie in January 2017. As a writer who often writes about antisemitism and lives in a small city with a small Jewish population, she felt targeted. Police began an investigation but did not have suspects.
In Burlington, Halton Regional Police began appealing to the public for information after "Aushwitz" was spray-painted on a children's playground and a number of swastikas were spray-painted throughout Tansley Woods Park between December 10 and 11, 2016.
There were several cases of antisemitic graffiti in Toronto in November 2016. According to a Toronto Star article, two swastikas were found in a neighbourhood in the Moss Park area - one at an abandoned building and another on a parked vehicle at a dealership. Antisemitic messages were also drawn on the windows of the Mimico Centennial Library, which were reported to police and quickly removed.
On November 18, 2016, racist graffiti was discovered on the doors of a church and Muslim association in Ottawa. The front doors of Parkdale United Church were spray-painted with two Swastikas, the word "n--gers," and the numbers 14 and 88 - which stand for the white supremacist slogan and "Heil Hitler." The front doors of the Ottawa Muslim Association were spray-painted with the words "F--k Allah," "Go home, "666," and a swastika.
Earlier that week, Ottawa police were notified of a third hate crime in a week after antisemitic graffiti was discovered on Machzikei Hadas synagogue. Two swastikas were spray-painted on the front doors and another two were spray-painted on a nearby sign. The synagogue's outside walls were also spray-painted with several offensive messages. According to the CBC, this incident came just a few days after a swastika and the word "k--e" were found on the door of a woman who runs a Jewish prayer centre, as well as graffiti found at Ottawa's Torah Institute.
A cenotaph in Cobourg was vandalized with antisemitic graffiti on April 9, 2016. Police received a report after someone drew a swastika on the cenotaph in Victoria Park. The swastika had already been washed off when Cobourg Police arrived at the scene.
A business owner in Waterloo discovered a swastika scratched into his car, which was parked outside a clothing store, on April 1, 2016. The antisemitic vandalism was reported to police.
‍
Threats
As officials continued investigations into more than 120 bomb threats made towards Jewish community centres throughout the U.S. and Canada, two Jewish community centres in Ontario received bomb threats on March 7, 2017. Shortly after 10 a.m., Miles Nadal Jewish Community Centre in Toronto forced toddlers and young children at a day care to evacuate. At almost the same time, a Jewish community centre and nearby apartment building in London, Ontario were evacuated for a second time due to a bomb threat.
A bomb threat forced the evacuation of the same community centre and building less than six weeks earlier on January 31, 2017. Police allowed employees back into the community centre after nothing suspicious was found.
‍
Other Incidents
On August 10, 2017, FSWC expressed its disappointment after observing a vendor at an antiques market in Pickering selling Nazi memorabilia. The collection was worth approximately $5,000 and included a deck of cards printed with swastikas, stamps featuring Hitler, a 1942 Der Schulungsbrief - the Nazi Party's monthly magazine for political education, Hitler Youth pins, letterhead belonging to the General Governor of Krakow, identification cards of German workers, a Nazi flag, among many other items. FSWC lodged complaints with the owner of the market, the mayor of the city and with local police.
A day after the Canadian Food Inspection Agency made its decision to ban certain wines made in Israel, a group with ties to the neo-Nazi and Holocaust-denying movement gathered at a public library in Etobicoke on July 12, 2017. The gathering was a memorial for Barbara Kulaszka - who previously acted as co-counsel for infamous Holocaust denier Ernst Zündel - and was attended by white nationalists Paul Fromm and Marc Lemire, and Ernst Zundel defender Lynda Mortl. FSWC had reached out to the library expressing its concern.

On July 11, 2017, the CFIA requested LCBO to discontinue the importation and sales of wines from the West Bank labelled as "Product of Israel." CFIA stated that Israel would not be an acceptable country of origin for products made in the West Bank. After hearing about the incident, FSWC reached out to government officials expressing concern regarding a letter that was sent by the LCBO. The CFIA quickly reversed its decision, releasing a statement on July 13 that stated the Canada-Israel Free Trade Agreement was not fully considered, that "these wines adhere to the Agreement" and can therefore be sold as labelled.

NOTE THIS DOCUMENT IS BEING COMPILED CONTINUOUSLY. THERE IS LOTS MORE! CHECK IN SHORTLY!